Sport at Rynfield Primary School plays an important role and we strive to create a holistic experience and environment for all who participate in sport at RPS. Sport is a great tool that can be used to enhance skills, boost confidence, teach discipline and most importantly, make friends and have fun while doing so. At Rynfield Primary School we offer many different sports including: Swimming, Athletics, Netball, Rugby, Softball, Hockey, Chess, Cricket, Cross Country, Mini Netball, Mini Soccer, T-Ball, Mini Cricket, Mini Hockey, Valkie Rugby and Equestrian.
2019

GAUTENG SPORTS SCHOOL OF THE YEAR

2018

Ekurhuleni Primary Sport School of the year - Runner Up

2015

Ekurhuleni Primary Sport School of the year – Finalist

2013

Ekurhuleni Primary Sport School of the year – Finalist

2012

Ekurhuleni Primary Sport School of the year

2010

Ekurhuleni Primary Sport School of the year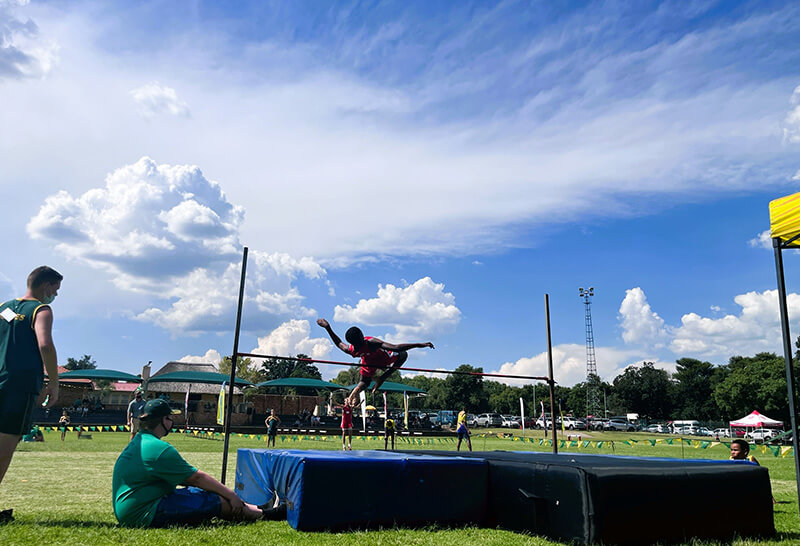 Athletics at RPS encompasses the entire student body of the school. Hundreds of learners from Grade 1 to Grade 7 take part in our Annual Inter-House meeting held in Term 4. Our team size is reduced on a performance based criteria until we reach our final Inter-Primary School team which competes at the beginning of February in the A – League Inter-Primary event.
We run numerous athletics meetings during our compact season, which takes place during the first 4 weeks of Term 1 and Term 4.
The RPS athletes always impress us with their outstanding performances, and we as a school. Our athletes have built up a proud tradition of excelling at all the subsequent events after Inter-Primary. Approximately 25 RPS athletes participate at Greater Benoni and D-17 and an average of 15 – 20 athletes proceed to qualify and compete at the Gauteng Championships each year.
RPS boasts an IAAF Standard Long Jump Facility which enables our Long Jumpers to fine tune their run ups and techniques in the best possible environment. All of the equipment used to run practices and events are all IAAF Certified. This equipment ranges from shot put balls to our newly acquired full set of hurdles and starting blocks.
Commences in Term 1 and again in Term 4.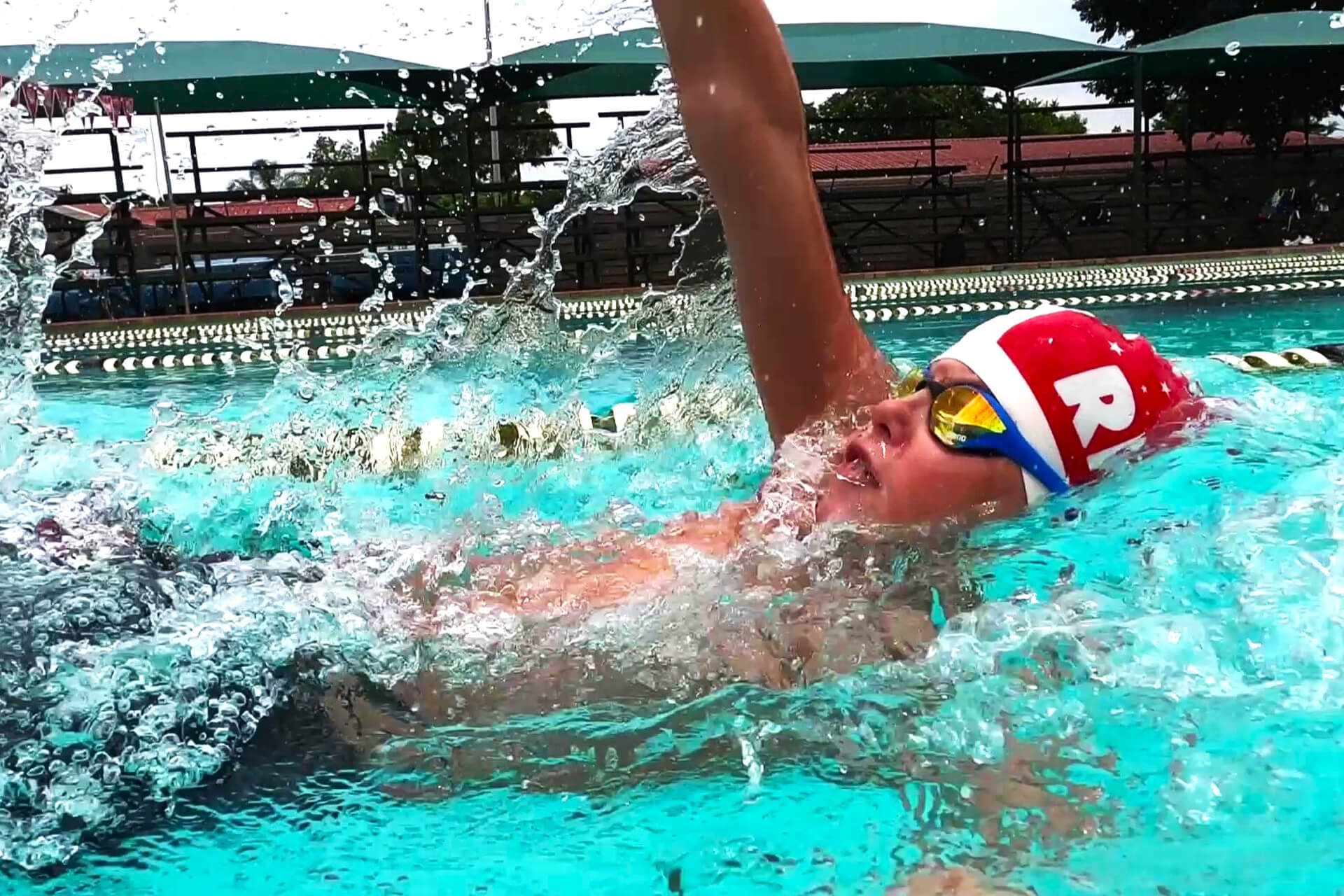 Rynfield Primary School's swimming can only be described as phenomenal.
The dedication of the entire school, from the School Governing Body, to the Principal, the parents, coaches and our super star swimmers is evident in our results at the end of our swimming seasons. 
The team participation at training sessions and the immaculate swimming pool that has been upgraded with 3 heaters, new diving blocks, a renovated changing area, all on our school's property allow our young swimmers to train all year round.The RPS Swimming Team represent the school at the highest level, competing in the A – League, where we have been crowned Champions for the last 6 consecutive years. 
Rynfield Primary School swimming is exceptional. It is diverse and works towards bettering each and every individual from the beginner to the elite.
Commences in term 1 and again in term 4.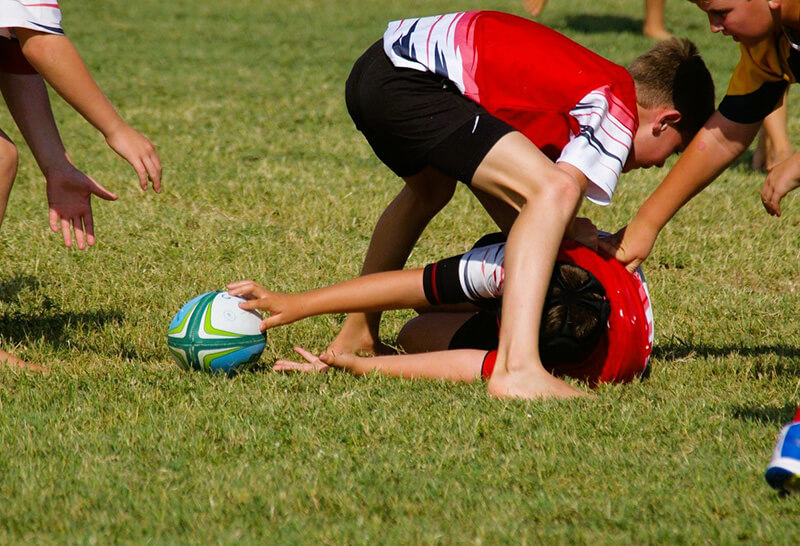 Rugby at RPS is played from Grades 1 – Grades 7. Rugby starts 6 weeks into Term 1 and continues to the end of Term 2.
Grades 1 and 2 boys turning 7 or 8 years old play Valkie Rugby. Valkie Rugby is Tag Rugby which is predominantly a non-contact sport. The School's Valkie programme gives the parents of RPS learners competing, a chance to get involved with the School by assisting with coaching. Wonderful lasting friendships, amongst both boys and their parents, are made at Valkie Rugby.
The U'9 to U'13 boys play League Rugby. This is an extremely competitive environment which pushes our boys both physically and mentally each year as we step onto the field. Our boys will be exposed to other schools and playing styles on a tour or at a festival during the season, to build great camaraderie between themselves and their coaches.
Each year our boys exceed expectations and we are always extremely proud of every learner and coach who contributes to building RPS into a rugby school. We are proud to say that 3 of our senior players were selected to play at Craven week during the months of June/July 2022.
Commences in Term 2.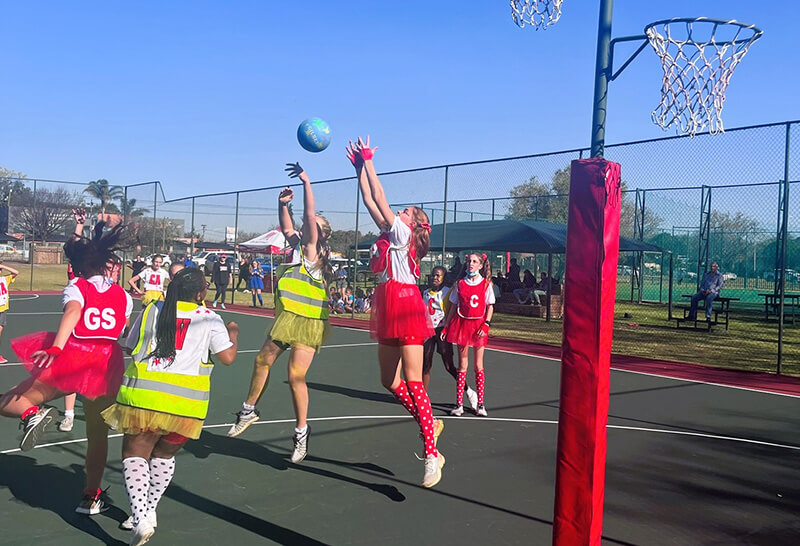 Netball is an extremely popular 1st and 2nd Term sport for our young ladies. Netball is played from week 6 in Term 1 and continues to the end of Term 2.
Grades 1, 2 and 3 are a part of the mass participation system we run for our juniors, who then participate in friendly fixtures and festivals.
From Grade 4 upwards, the sport becomes slightly more competitive and RPS plays in the Ekurhuleni Netball League. For each Age Group, 2 teams are selected to represent RPS in the league.  We have introduced a development team for each age group to keep all our learners who participate at trials on the court to develop their skills.
RPS is the proud owner of an All-Purpose court for our netball girls. This upgraded, updated facility has made a huge impact to the professionalism during practice sessions and fixtures.
Training commences in Term 1.
League and friendly matches are played in Term 2.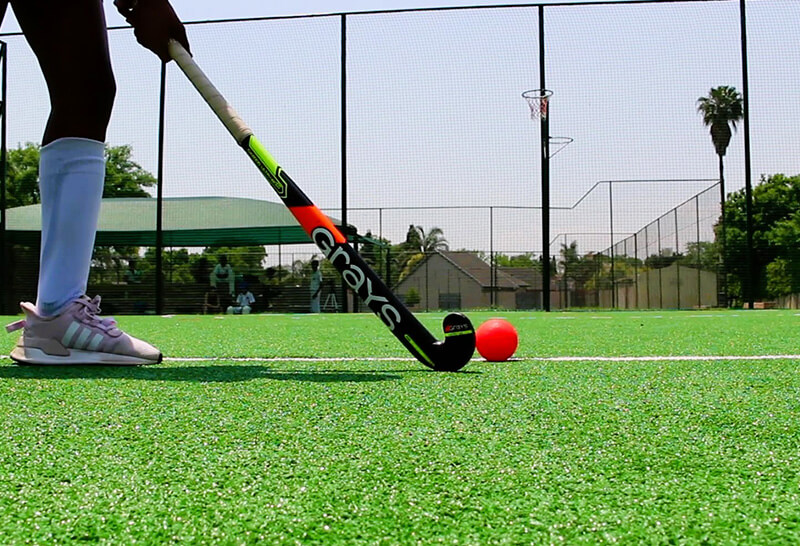 Hockey at RPS is continually growing from strength to strength. We boast 4 girls' teams that compete in the Ekurhuleni League in Term 3. The competition is tough, but our young ladies show true determination at every fixture we participate in.
RPS has recently joined the boy's league with our U'11 and U'13 young gentlemen. The boys who are interested in cricket and hockey are allowed to play both sports in the same term. This improves our squad depth and competitiveness when we step onto the field.
Both our RPS boys and girls normally attend worthwhile camps during the June/July school holidays. This proves to be very beneficial in preparing them for the season.
We are proud to say that at RPS we have an average of 2-3 learners representing Eastern Gauteng each year at the Annual Inter-Provincial tournaments.
Our juniors not only get involved in the hockey season, they take over the field during Term 3. Our mass participation mini hockey practices take place twice a week. RPS are extremely proud to show off the numbers that take part at these training sessions.
Commences in Term 3.
Equestrian is a year long sport which welcomes the participation of learners from Grade 1 to Grade 7. Our team acknowledges the bond between rider and horse and celebrates this relationship through an array of disciplines such as: show jumping, dressage, equitation, working riding and performance riding. RPS riders compete in the SANESA Schools League held all over Gauteng. We are proud to say that many of our riders have been chosen to represent Ekurhuleni at the SANESA Regional competitions and have then gone on to represent Gauteng at the SANESA Nationals. Whether you're a beginner to the sport or a seasoned rider, RPS welcomes all learners with access to a horse/pony to our team.
Softball is played by our young lady super stars from U'10 – U'13.
RPS fields a minimum of 3 teams each year and competes in the Ekurhuleni league at the Benoni Northerns sports grounds. We have recently added softball to our tour calendar. These tours will expose our girls to different styles of play and coaching to prepare them for a successful season.
We are proud to say that at RPS we have an average of 2-3 learners representing Eastern Gauteng each year at the annual Inter-Provincial tournaments.
Commences in Term 3.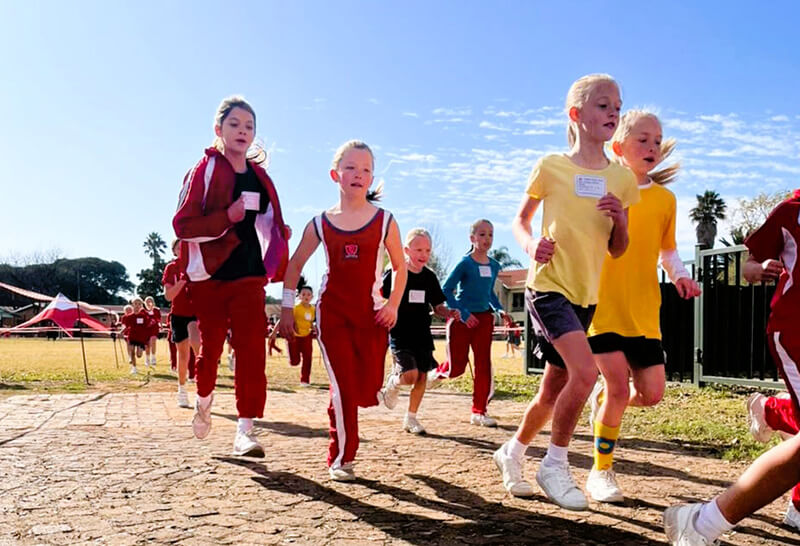 Cross Country at RPS is a mass participation sport. Athletes take part in our Annual Inter-House Cross Country event in and around the school property which gives our learners a taste of what the season has in store. We encourage many of our winter sport children to take part in the Cross Country season, as it is a great way to build stamina and fitness for their respective sports.
RPS averages an impressive 40 learners who qualify for the Greater Town meeting with an average of 35 moving on to the District Championships each year. We are continuously impressed by our athletes, and look forward to every new season.
Commences in Term 3.
Cricket at RPS continues to grow in popularity year on year.
RPS is proud to boast 5 senior teams (U'9-U'13) and a minimum of 4 junior teams (U'7-U'8) each year.
Our juniors take part in friendly mini cricket matches against other school teams. Our rotational system which allows each boy or girl to play matches is crucial for the development of the sport at RPS. This not only exposes our learners to some competitive sport, but also teamwork and the fun factor that sport can bring.
Our U'9 to U'13 learners form part of the Benoni Cricket League. Here our RPS learners show off their abilities against the highest level of competition. 
RPS is a proud cricketing school. Our coaches work tirelessly to ensure that we remain a force to be reckoned with.
Commences in Term 3.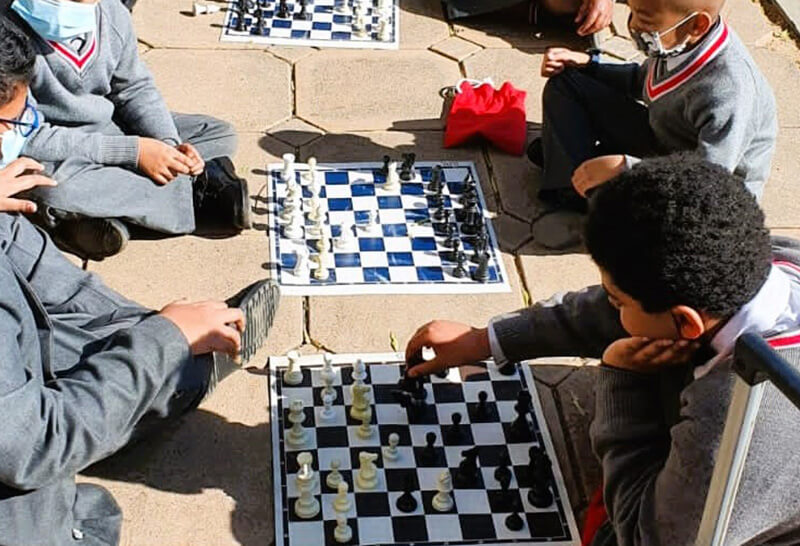 At RPS, Chess has seen an exponential growth in interest over the past few years. RPS runs 2 Chess sessions a week where groups are split up into beginners and an RPS team.
Rynfield Primary School is in the privileged position where we are able to hire an outside professional coach to advance our learners' knowledge of the sport. This has proved to be a great initiative as our chess players are starting to climb the ranking system in our area. Over the years of Chess being played at RPS, we have seen many of our learners progress to District, Provincial and even at National level.
Mini sports are offered to our Grades 1, 2 and 3 learners. It includes, mini Soccer, Netball, Hockey, Cricket, T-Ball and Valkie Rugby.
Mini sport is at the developmental stage in a child's school sporting career.
We work with mass participation, giving all learners the opportunity to learn the rules of the sport in a pressure free, fun and exciting environment.